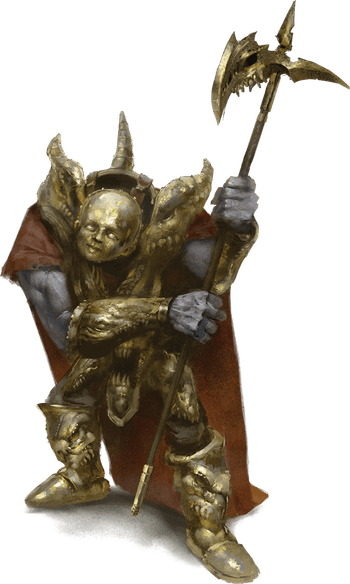 Merregon
Medium fiend (devil)
Challenge

4
---
STR

4
DEX

2
CON

3
INT

−2
WIS

1
CHA

−1
---
Defense note natural armor
Damage resistances cold; bludgeoning, piercing, and slashing from attacks that aren't silvered
Damage immunities fire, poison
---
Speed 5 m.
Senses darkvision 10 m.
Languages understands Infernal but can't speak, telepathy 20 m.
---
Devil's Sight. Magical darkness doesn't impede the merregon's darkvision.
Fervor. If an allied fiend of challenge rating 6 or higher is within 10 meters of it, the merregon can use an additional action to attack.
Magic Resistance. The merregon has advantage on saving throws against spells and other magical effects.
Actions (2)
Halberd. Melee Weapon Attack: +6 to hit, reach 2 m. Hit: 9 (1d10 + 4) slashing damage.
Battleaxe. Melee Weapon Attack: +6 to hit, reach 1 m. Hit: 8 (1d8 + 4) slashing damage, or 9 (1d10 + 4) slashing damage if used with two hands.
Heavy Crossbow (2/turn). Ranged Weapon Attack: +4 to hit, range 20/200 m. Hit: 7 (1d10 + 2) piercing damage.
Reactions
Loyal Bodyguard. When another fiend within 1 meter of the merregon is hit by an attack, the merregon causes itself to be hit instead.
mtof
No concoctions, maneuvers, or spells
All creatures in this system should have maneuvers or spells. You should add some maneuvers or spells to this creature. If you do so, please make a suggestion on github so I can finish adding maneuvers and spells to all creatures via https://github.com/mlenser/kryx-rpg-issues/issues/9.