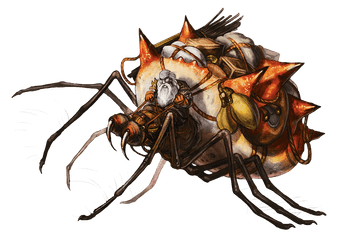 Male Steeder
Medium monstrosity
Challenge

¼
---
STR

2
DEX

1
CON

2
INT

−4
WIS

0
CHA

−4
---
Defense note natural armor
---
Speed 5 m., climb 5 m.
Senses darkvision 20 m.
---
Maneuvers. The male steeder uses maneuvers (maneuver save Difficulty 12). It has 2 stamina dice which are d8s, a dice limit of 1, regains all expended stamina dice when it finishes a long rest, and regains half its total stamina dice when it finishes a short rest. It knows the following maneuvers:
1 stamina die: ambush, inject venom (bite only), pounce, spring attack
Natural Jumper. The steeder can jump great distances. Double its Athletics result to determine how far it can jump.
Spider Climb. The steeder can climb difficult surfaces, including upside down on ceilings, without needing to make an ability check.
Actions
Bite. Melee Weapon Attack: +4 to hit, reach 1 m. Hit: 6 (1d8 + 2) piercing damage plus 4 (1d8) poison damage.
Underdarkmtof