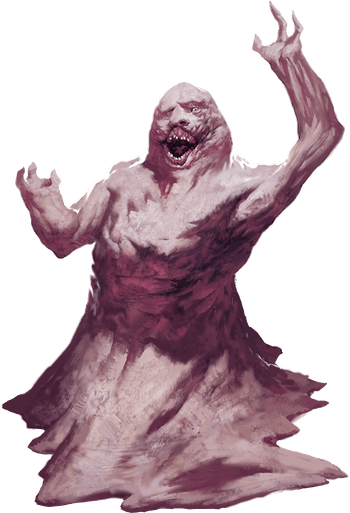 Lemure
Medium fiend (devil)
Challenge

0
---
STR

0
DEX

−3
CON

0
INT

−5
WIS

0
CHA

−4
---
Damage resistances cold; bludgeoning, piercing, and slashing from attacks that aren't silvered
Damage immunities fire, poison
Condition immunities burning, charmed, frightened, poisoned
---
Speed 3 m.
Senses darkvision 20 m.
Languages understands infernal but can't speak
---
Devil's Sight. Magical darkness doesn't impede the lemure's darkvision.
Hellish Rejuvenation. A lemure that dies in the Nine Hells comes back to life with all its health in 1d10 days unless it is killed by a good-aligned creature with a bless spell cast on that creature or its remains are sprinkled with holy water.
Actions
Fist. Melee Weapon Attack: +1 to hit, reach 1 m. Hit: 2 (1d4) bludgeoning damage.
No concoctions, maneuvers, or spells
All creatures in this system should have maneuvers or spells. You should add some maneuvers or spells to this creature. If you do so, please make a suggestion on github so I can finish adding maneuvers and spells to all creatures via https://github.com/mlenser/kryx-rpg-issues/issues/9