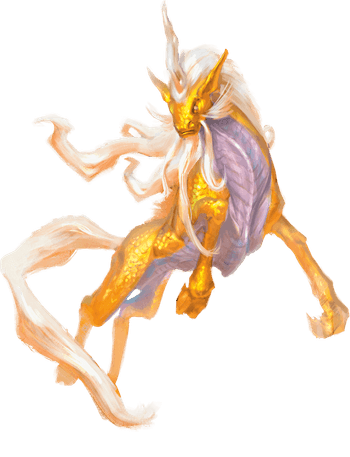 Ki-rin
Huge celestial
Challenge

12
---
---
Defense note natural armor
Damage resistances bludgeoning, piercing, and slashing from attacks that have not been desecrated with the blood from a celestial or humanoid killed within the past 24 hours
Damage immunities poison
---
Speed 10 m., fly 20 m. (hover)
Senses blindsight 5 m., darkvision 20 m.
Languages all, telepathy 20 m.
---
Legendary Resistance (3/day). If the ki-rin fails a saving throw, it can choose to succeed instead.
Magic Resistance. The ki-rin has advantage on saving throws against spells and other magical effects.
Magic Weapons. The ki-rin's weapon attacks are magical.
Spellcasting. The ki-rin uses Divinity (Cha) to cast spells (spell save Difficulty 17, +9 to hit with spell attacks). It has 23 mana, a mana limit of 4, regains all expended mana when it finishes a long rest and regains half its total mana (rounded up) when it finishes a short rest. It knows the following spells:
At will: detect evil and good, gaseous form, gaseous form (augmented to wind walk), image (augmented to major image)
Cantrips (at will, 15th-level spellcaster): light, mending, [spare the dying](/spells/spare-the-dying), thaumaturgy
1 mana: command, heal, protection from evil and good, sanctuary, sending
2 mana: banishment, calm emotions, clairvoyance, create food and water, dispel magic, freedom of movement, guardian of faith, mass heal, remove curse, restoration, seeing
3 mana: control weather, etherealness, heroes' feast, plane shift, resurrection
1/day: control weather
3/day: resurrection
Actions (3)
Hoof (2/turn). Melee Weapon Attack: +9 to hit, reach 3 m. Hit: 10 (2d4 + 5) bludgeoning damage.
Horn (1/turn). Melee Weapon Attack: +9 to hit, reach 1 m. Hit: 14 (2d8 + 5) piercing damage.
Legendary Actions (3)
Only one legendary option can be used at a time and only at the end of another creature's turn. The ki-rin regains spent legendary actions at the start of its turn.
Move. The ki-rin moves up to its half its speed without provoking opportunity attacks.
Smite. The ki-rin makes a hoof attack or casts sacred flame.
Coastal, Desert, Grassland, Mountainvgtm
No concoctions, maneuvers, or spells
All creatures in this system should have maneuvers or spells. You should add some maneuvers or spells to this creature. If you do so, please make a suggestion on github so I can finish adding maneuvers and spells to all creatures via https://github.com/mlenser/kryx-rpg-issues/issues/9.