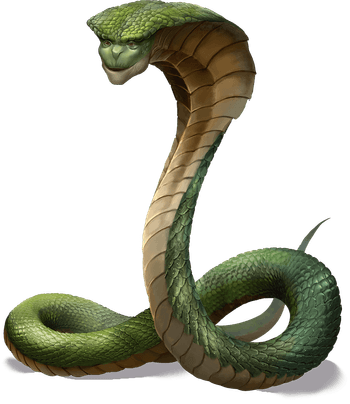 Guardian Naga
Large beast
Challenge
---
---
Defense note natural armor
Damage immunities poison
Condition immunities charmed, poisoned
---
Speed 8 m.
Skills Divinity +7 (18)
Senses darkvision 10 m.
Languages Celestial, Common
---
Rejuvenation. If it dies, the guardian naga returns to life in 1d6 days and regains all its health. Only a miracle or wish spell can prevent this trait from functioning.
Spellcasting. The guardian naga uses Divinity (wis) to cast spells (spell save Difficulty 16, +7 to hit with spell attacks). It has 20 mana, a mana limit of 4, regains all expended mana when it finishes a long rest, and regains half its total mana when it finishes a short rest. It knows the following spells:
1 mana: command, heal, shield of faith
2 mana: banishment, bestow curse, calm emotions, clairvoyance, freedom of movement, seeing, stasis
3 mana: geas
Actions (2)
Bite. Melee Weapon Attack: +7 to hit, reach 2 m. Hit: 8 (1d8 + 4) piercing damage plus 18 (4d8) poison damage.
Spit Poison (1/turn). Ranged Weapon Attack: +7 to hit, range 3/10 m. Hit: 36 (8d8) poison damage.