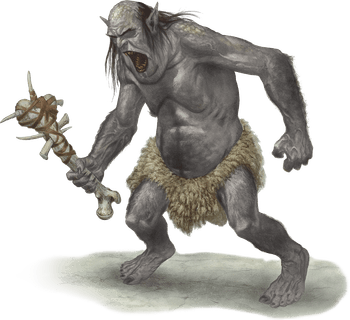 Grimlock
Medium humanoid (grimlock)
Challenge

¼
---
STR

3
DEX

1
CON

1
INT

−1
WIS

−1
CHA

−2
---
Condition immunities blinded
---
Speed 5 m.
Skills Athletics +5 (16), Brawn +5 (16), Insight −1 (10), Perception +1 (12), Stealth +3 (14)
Senses blindsight 5 m. or 2 m. while deafened (blind beyond this radius)
Languages Undercommon
---
Blind Senses. The grimlock can't use its blindsight while deafened and unable to smell.
Keen Hearing and Smell. The grimlock has advantage on Perception checks that rely on hearing or smell.
Stone Camouflage. The grimlock has advantage on Stealth checks made to avoid being noticed in rocky terrain.
Actions
Spiked Bone Club. Melee Weapon Attack: +5 to hit, reach 1 m. Hit: 5 (1d4 + 3) bludgeoning damage plus 2 (1d4) piercing damage.
No concoctions, maneuvers, or spells
All creatures in this system should have maneuvers or spells. You should add some maneuvers or spells to this creature. If you do so, please make a suggestion on github so I can finish adding maneuvers and spells to all creatures via https://github.com/mlenser/kryx-rpg-issues/issues/9