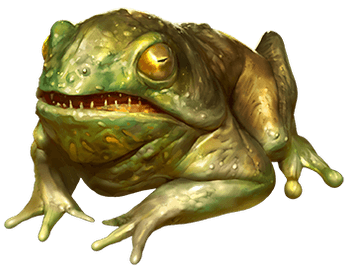 Frog
Tiny animal
Challenge

0
---
STR

−5
DEX

1
CON

−1
INT

−5
WIS

−1
CHA

−4
---
---
Speed 4 m., swim 4 m.
Senses darkvision 5 m.
---
Amphibious. The frog can breathe air and water.
Maneuvers. The frog uses maneuvers (maneuver save Difficulty 10). It has 1 stamina die which is a d8 and regains its stamina die when it finishes a short or long rest. It knows the following maneuvers:
1 stamina die: scurry
Standing Leap. The frog's jump is always treated as if it has a running start.