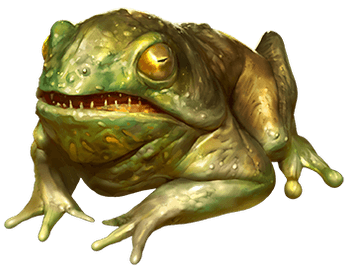 Frog
Tiny animal
Challenge

0
---
STR

−5
DEX

1
CON

−1
INT

−5
WIS

−1
CHA

−4
---
---
Speed 4 m., swim 4 m.
Senses darkvision 5 m.
---
Amphibious. The frog can breathe air and water
Standing Leap. The frog's long jump is up to 2 meters and its high jump is up to 1 m., with or without a running start.
No concoctions, maneuvers, or spells
All creatures in this system should have maneuvers or spells. You should add some maneuvers or spells to this creature. If you do so, please make a suggestion on github so I can finish adding maneuvers and spells to all creatures via https://github.com/mlenser/kryx-rpg-issues/issues/9.