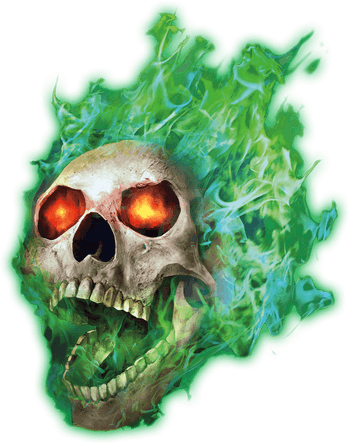 Flameskull
Tiny undead
Challenge

4
---
STR

−5
DEX

3
CON

2
INT

3
WIS

0
CHA

0
---
Damage resistances lightning, necrotic, piercing
Damage immunities cold, fire, poison
Condition immunities burning, charmed, diseased, exhausted, frightened, paralyzed, poisoned, prone
---
Speed 0 m., fly 8 m. (hover)
Skills Insight +0 (11), Perception +2 (13), Primal +2 (13)
Senses darkvision 10 m.
Languages Common
---
Illumination. The flameskull sheds either dim light in a 5-meter radius, or bright light in a 5-meter radius and dim light for an additional 5 meters. It can switch between the options as an action.
Magic Resistance. The flameskull has advantage on saving throws against spells and other magical effects.
Rejuvenation. If the flameskull is destroyed, it regains all its health in 1 hour unless holy water is sprinkled on its remains or a dispel magic or remove curse spell is cast on them.
Spellcasting. The flameskull uses Primal (Int) to cast spells (spell save DC 13, +5 to hit with spell attacks). It has 4 mana, a mana limit of 1, regains all expended mana when it finishes a long rest and regains half its total mana when it finishes a short rest. It knows the following spells:
Cantrips (at will, 5th-level spellcaster): cauterize wound, control flames, produce flame
1 mana: ash fall, burning hands, fiery rebuke, immolation, protection from fire, pyrotechnics, scorching bolts, searing burst
Actions (2)
Fire Ray. Ranged Spell Attack: +5 to hit, range 10 m. Hit: 10 (3d6) fire damage, and the target is burning 1.
Underdarkmm
No concoctions, maneuvers, or spells
All creatures in this system should have maneuvers or spells. You should add some maneuvers or spells to this creature. If you do so, please make a suggestion on github so I can finish adding maneuvers and spells to all creatures via https://github.com/mlenser/kryx-rpg-issues/issues/9