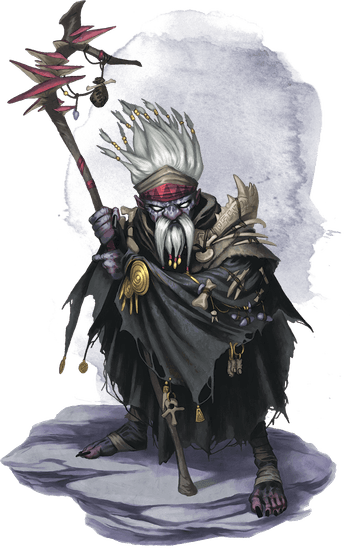 Derro Savant
Small humanoid (derro)
Challenge

3
---
STR

−1
DEX

2
CON

1
INT

0
WIS

−3
CHA

2
---
---
Speed 5 m.
Skills Insight −3 (8), Occult +2 (13), Perception −3 (8), Stealth +4 (15)
Senses darkvision 20 m.
Languages Dwarven, Undercommon
---
Magic Resistance. The derro savant has advantage on saving throws against spells and other magical effects.
Spellcasting. The derro savant uses Occult (Cha) to cast spells (spell save DC 12, +4 to hit with spell attacks). It has 6 mana, a mana limit of 1, regains all expended mana when it finishes a long rest and regains half its total mana when it finishes a short rest. It knows the following spells:
Cantrips (at will): discombobulate, distract, disturb, mind thrust
1 mana: agonizing rebuke, confusion, dissonant whispers, haze senses, hideous laughter, invisibility, misdirection
Sunlight Sensitivity. While in sunlight, the derro savant has disadvantage on attack rolls, as well as on Perception checks that rely on sight.
Actions
Quarterstaff. Melee Weapon Attack: +1 to hit, reach 1 m. Hit: 3 (1d8 − 1) bludgeoning damage.
Underdarkmtof
No concoctions, maneuvers, or spells
All creatures in this system should have maneuvers or spells. You should add some maneuvers or spells to this creature. If you do so, please make a suggestion on github so I can finish adding maneuvers and spells to all creatures via https://github.com/mlenser/kryx-rpg-issues/issues/9