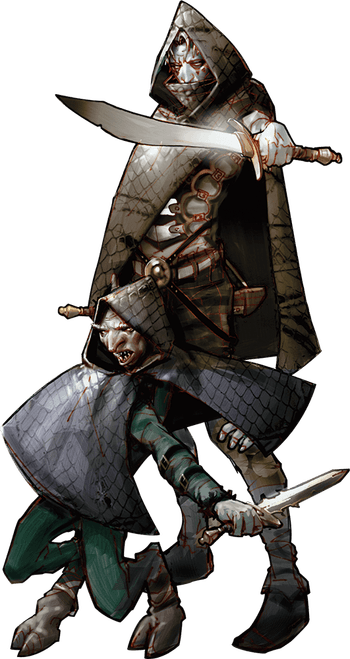 Darkling
Small fey
Challenge

½
---
STR

−1
DEX

3
CON

1
INT

0
WIS

1
CHA

0
---
Defense note leather
Damage resistances bludgeoning, piercing, and slashing from attacks that aren't cold iron
---
Speed 5 m.
Skills Acrobatics +5 (16), Deception +2 (13), Insight +1 (12), Perception +3 (14), Stealth +5 (16)
Senses blindsight 5 m., darkvision 20 m.
Languages Elvish, Sylvan
---
Cheap Shot (1/turn). The darkling deals an extra 7 (2d6) damage when it hits a target with a weapon attack and has advantage on the attack roll, or when the target is within 1 meter of an ally of the darkling that isn't incapacitated and the darkling doesn't have disadvantage on the attack roll.
Death Flash. When the darkling dies, nonmagical light flashes out from it in a 2-meter radius as its body and possessions, other than metal or magic objects, burn to ash. Any creature in that area and able to see the bright light must succeed on a DC 11 Fortitude saving throw or be blinded until the end of the creature's next turn.
Light Sensitivity. While in bright light, the darkling has disadvantage on attack rolls, as well as on Perception checks that rely on sight.
Maneuvers. The darkling uses maneuvers (maneuver save DC 13). It has 2 stamina dice which are d8s, a dice limit of 1, regains all expended stamina dice when it finishes a long rest, and regains half its total stamina dice when it finishes a short rest. It knows the following maneuvers:
1 stamina die: bloodletting blade, cripple, fan of knives, feint, lunge, nimble, parry, precision, spring attack, uncanny dodge
Actions
Shortsword. Melee Weapon Attack: +5 to hit, reach 1 m. Hit: 6 (1d6 + 3) piercing damage.
Dagger. Melee or Ranged Weapon Attack: +5 to hit, reach 1 m. or range 3/10 m. Hit: 5 (1d4 + 3) piercing damage.
Forest, Swamp, Underdark, Urbanvgtm