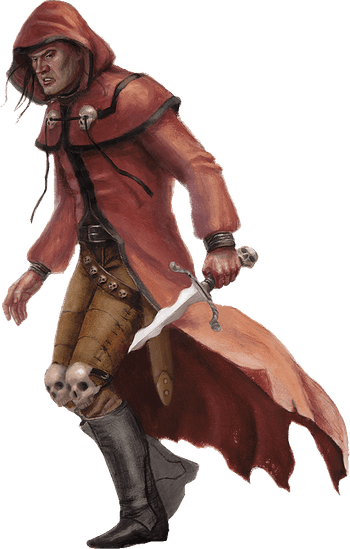 Cultist
Medium humanoid (any species)
Challenge

⅛
---
---
---
Speed 5 m.
Languages any one language (usually Common)
---
Dark Devotion. The cultist has advantage on saving throws against being charmed or frightened.
Spellcasting. The cultist uses Divinity (Cha) to cast spells (spell save Difficulty 10, +2 to hit with spell attacks). It has 2 mana, a mana limit of 1, regains all expended mana when it finishes a long rest and regains half its total mana when it finishes a short rest. It knows the following spells:
Cantrips (at will): crimson blade, dancing lights, thaumaturgy
1 mana: command, inflict wounds
Actions
Scimitar. Melee Weapon Attack: +3 to hit, reach 1 m. Hit: 4 (1d6 + 1) slashing damage.
Dagger. Melee or Ranged Weapon Attack: +3 to hit, reach 1 m. or range 3/10 m. Hit: 3 (1d4 + 1) piercing damage.
No concoctions, maneuvers, or spells
All creatures in this system should have maneuvers or spells. You should add some maneuvers or spells to this creature. If you do so, please make a suggestion on github so I can finish adding maneuvers and spells to all creatures via https://github.com/mlenser/kryx-rpg-issues/issues/9.