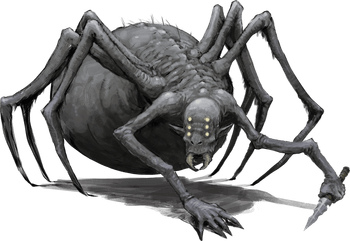 Choldrith
Medium monstrosity
Challenge

3
---
---
---
Speed 5 m., climb 5 m.
Skills Athletics +3 (14), Brawn +3 (14), Deception +2 (13), Divinity +4 (15), Insight +2 (13), Perception +2 (13), Stealth +5 (16)
Senses darkvision 10 m.
Languages Undercommon
---
Fey Ancestry. The choldrith has advantage on saving throws against being charmed, and magic can't put the choldrith to sleep.
Maneuvers. The choldrith uses maneuvers (maneuver save DC 13). It has 5 stamina dice which are d8s, a dice limit of 1, regains all expended stamina dice when it finishes a long rest, and regains half its total stamina dice (rounded up) when it finishes a short rest. It knows the following maneuvers:
1 stamina die: ambush, blind, bloodletting blade, cripple, disorient, distract, fan of knives, feint, lead the attack, sand in the eyes, spring attack
Spellcasting. The choldrith uses Divinity (Wis) to cast spells (spell save DC 12, +4 to hit with spell attacks). It has 2 mana, a mana limit of 1, regains all expended mana when it finishes a long rest and regains half its total mana when it finishes a short rest. It knows the following spells:
Cantrips (at will): mending, poison spray, thaumaturgy
1 mana: bane, confusion poison, conviction, detect poison, envenomed weapon, heal, poison burst, protection from poison, putrefy food and drink, ray of sickness, sanctuary, shield of faith, slowing poison, toxic fumes
Spider Climb. The choldrith can climb difficult surfaces, including upside down on ceilings, without needing to make an ability check.
Sunlight Sensitivity. While in sunlight, the choldrith has disadvantage on attack rolls, as well as on Perception checks that rely on sight.
Web Sense. While in contact with a web, the choldrith knows the exact location of any other creature in contact with the same web.
Web Walker. The choldrith ignores movement restrictions caused by webbing.
Actions
Dagger. Melee or Ranged Weapon Attack: +5 to hit, reach 1 m. or range 3/10 m. Hit: 5 (1d4 + 3) piercing damage plus 10 (3d6) poison damage.
Web (Recharge 5–6). The choldrith shoots a web at a Large or smaller creature that it can see within 10 meters of it. The targeted creature must succeed on a DC 13 Reflex saving throw or be restrained by the webbing. As an action, the restrained target can make a DC 11 Brawn check, bursting the webbing on a success. The webbing can also be attacked and destroyed (10 Defense; 5 Health; vulnerability to fire damage; immunity to bludgeoning, poison, and psychic damage).
Underdarkvgtm