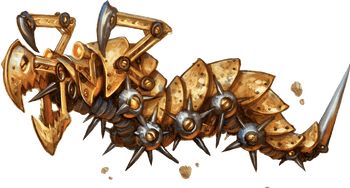 Bronze Scout
Medium construct
Challenge

1
---
STR

0
DEX

3
CON

0
INT

−4
WIS

2
CHA

−5
---
Damage immunities poison; bludgeoning, piercing, and slashing from attacks that aren't adamantine
Condition immunities charmed, diseased, exhausted, frightened, paralyzed, petrified, poisoned
---
Speed 5 m., burrow 5 m.
Skills Insight +2 (13), Perception +4 (15), Stealth +5 (16)
Senses darkvision 10 m.
Languages understands one language of its creator but can't speak
---
Earth Armor. The bronze scout doesn't provoke opportunity attacks when it burrows.
Magic Resistance. The bronze scout has advantage on saving throws against spells and other magical effects.
Maneuvers. The bronze scout uses maneuvers (maneuver save DC 13). It has 2 stamina dice which are d8s, a dice limit of 1, regains all expended stamina dice when it finishes a long rest, and regains half its total stamina dice when it finishes a short rest. It knows the following maneuvers:
1 stamina die: ambush, rolling stone, spring attack, sturdy stance
Actions
Bite. Melee Weapon Attack: +5 to hit, reach 1 m. Hit: 5 (1d4 + 3) piercing damage plus 3 (1d6) lightning damage.
Lightning Flare (Recharges after a Short or Long Rest). Each creature in contact with the ground within 3 meters of the bronze scout must make a DC 13 Reflex saving throw. On a failed save, a creature takes 14 (4d6) lightning damage, and it can't take reactions until the start of its next turn. On a successful save, a creature takes half as much damage and isn't otherwise affected.
Forest, Grassland, Hill, Mountainmtof