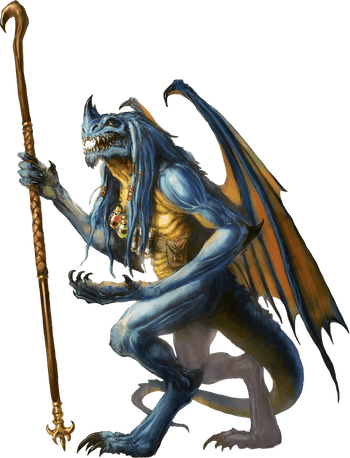 Blue Abishai
Medium fiend (devil)
Challenge

17
---
---
23
Soak

2
Fort

+9
Ref

+5
Will

+11
Defense note natural armor
Damage resistances cold; bludgeoning, piercing, and slashing from attacks that aren't silvered
Damage immunities fire, lightning, poison
---
Speed 5 m., fly 10 m.
Senses darkvision 20 m.
Languages Draconic, Infernal, telepathy 20 m.
---
Devil's Sight. Magical darkness doesn't impede the abishai's darkvision.
Magic Resistance. The abishai has advantage on saving throws against spells and other magical effects.
Magic Weapons. The abishai's weapon attacks are magical.
Spellcasting. The blue abishai uses Divinity (Cha) to cast spells (spell save Difficulty 20, +12 to hit with spell attacks). It has 32 mana, a mana limit of 6, regains all expended mana when it finishes a long rest and regains half its total mana when it finishes a short rest. It knows the following spells:
Cantrips (at will, 21st-level spellcaster): blind spot, frighten, lightning lure, manipulate sound, mercy, minor illusion, thaumaturgy
1 mana: arc lightning, blur, command, control sound, deceive, disguise, false sensory input, fear, illusory script, image, invisibility, lightning bolt, locate water, magic mouth, mirror image, mirrored strike, misdirection, pass without trace, phantom steed, silence, wrath of the storm
2 mana: chain lightning, dark delirium, dream, flaying wind, hypnotic pattern, illusory dragon, incite panic, lightning strike, magic aura, phantasmal force
3 mana: glibness, mental prison, mirage, project image
5 mana: simulacrum
Actions (2)
Quarterstaff. Melee Weapon Attack: +8 to hit, reach 1 m. Hit: 6 (1d8 + 2) bludgeoning damage.
Bite (1/turn). Melee Weapon Attack: +8 to hit, reach 1 m. Hit: 13 (2d10 + 2) piercing damage plus 14 (4d6) lightning damage, and it can't take reactions until the start of its next turn.
Coastal, Urbanmtof
No concoctions, maneuvers, or spells
All creatures in this system should have maneuvers or spells. You should add some maneuvers or spells to this creature. If you do so, please make a suggestion on github so I can finish adding maneuvers and spells to all creatures via https://github.com/mlenser/kryx-rpg-issues/issues/9.